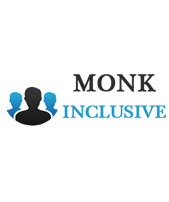 MONK INCLUSIVE is Complete ERP for Hotel Management Software. It is simple and user friendly . It helps to manage your schedule, Room Bookings, Consumption, Payments, Billing, Inventory Management, and Printing and many statistics worksheets (Housekeeping, Rooming -list, Handrail, Laundry and more…) as well as sending Email and SMS with all documents produced.
Monk Inns is scalable. It has a tool for advanced reporting that allows you not only to modify the reports already included in the software (confirmation, bill ...) but also to create your own reports. Monk Inns is open. The data are stored in a standard format (MYSQL Server), it is possible to create data exports to Excel (including through the reporting tool) Above all, Monk Inns is connected. It can support, fully automated, selling your nights on the Internet with most online travel agencies (Booking, Expedia and others). It handles the sending of your availability and the recovery of bookings made by internet users! Do not hesitate to test Monk Inns, this tool can save you considerable time and significantly increase your sales. And One more important thing is We are give 100% guarantee for fraudulent free software.
FEATURES OF OUR PRODUCTS
Single window multi login system.(Maintain multi branches in single server. It's used for reduce work pattern)
Work with online/offline
Fully web based software
Fully support for mobile software
We are connecting website rooms availability and HMS rooms availability
Interlink between website and HMS
Generating Daily sales E-mail report Front office manager
We are providing open source application
Automatic SMS / E-MAIL Integration from sender to receiver
In Daily Basis Automatic Daily collection report will be send to Managing Heads
Door Locking System
Bio-Metric Integration with Payroll
In Wifi, We provide a individual username and password to each customers, we can set limited speed for each customers.